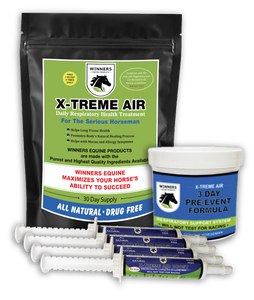 This amazing package is designed to get you started with our one-of-a-kind, respiratory health system. For the low price of $275 you get:
1 - 30 day X-Treme Air Daily Respiratory Treatment
1 - X-Treme Air 3 Day Pre-Event Intense Treatment
4 - X-Treme Air Boost Paste 
1 - Free shipping of this package to anywhere in the world 
 Winners Equine Products are the alternative for better health. Using the best quality ingredients available, for healthier conditioning and training purposes.